---
Brochure Printing
One of the best methods for portraying your products and services is offering brochures to your customers. They are one of the most efficient marketing campaigns that you can use for promoting your business. Brochures create an incredible impact on everyone who sees them, and, for you as a business owner, they are an inexpensive promotional element.

You can create an excellent impression using brochures to make your business known to your customers and potential customers. Choose from our variety of options available, which include several sizes, folding options, and paper assortments.

Full color printing!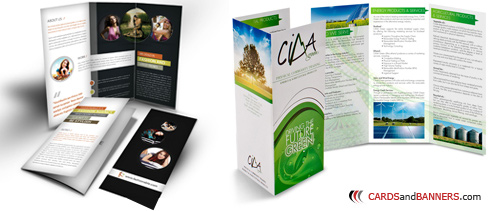 Tri Fold
Z Fold
Half Fold
Double Parallel Reverse Fold
Double Parallel Fold
Single Open Gate Fold
Double Gate Fold
Roll Fold
(4 Panel)
Accordion Fold
(4 Panel)
Half Fold then Half Fold
Half Fold then Tri Fold


---