---
Postcard printing
Regardless of the size of your business, postcards are some of the cost-effective solutions that help you increase awareness about your business. Impress your customers by offering them postcards or rack cards, which are some of the most efficient marketing tools that you can use to promote your business.

You can mail them out individually one card at the time, mail them out in bulk with Every Door Direct Mailing (EDDM), or hand them out. Postcards can help you promote your services, products, and promotions. Postcards are also an excellent tool that you can place in certain locations throughout town where there is a lot of foot traffic. You can also distribute postcards by handing them out to people who attend certain events, or you can use them as menus, schedules, reminders, thank you cards, greeting cards, product instructions, maps, etc.

Full color printing! Postcards can be printed double-sided or single-sided. Round corners or square corners.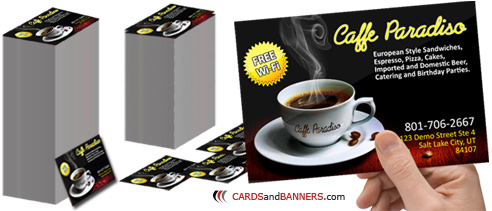 ---
For more sizes see category "Club Flyers"
Every Door Direct Mail
(EDDM) is a service offered by the U.S. Postal Service which allows businesses to target mailings to specific neighborhoods, without needing to have a list of names and addresses. Special postage rates apply. Please contact your
local U.S. Post Office
to confirm availability and requirements prior to printing.